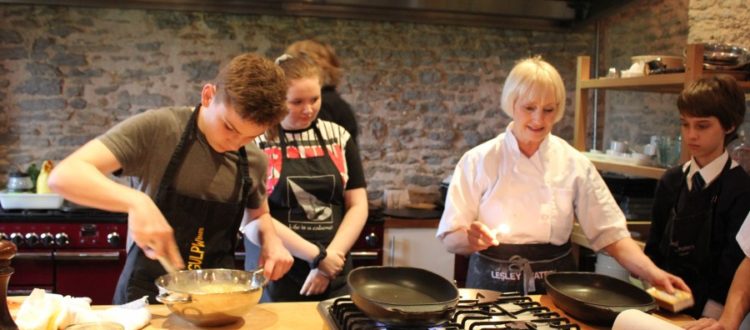 Lesley Waters Becomes Patron Of Christchurch Food Festival Education Trust
Celebrity chef, Lesley Waters has become patron of the Christchurch Food Festival Education Trust (CFFET). The Trust, a registered charity, undertakes work in the community to promote healthy eating by teaching about food, food preparation, cookery and nutrition.
Lesley is a familiar face for Food Festival visitors and for her appearances on television programmes such as Ready Steady Cook and Good Morning. She has been a keen supporter of the work of the Trust since its inception twelve years ago. She was at the forefront of the Trust's Junior Cook of the Year competitions, held in conjunction with Christchurch Rotary Club, and took the winning students to her own cookery school in North Dorset.
Chairman of the Trustees, Julie Ratcliffe, said: 'We are thrilled Lesley Waters has agreed to become a Patron of the Christchurch Food Festival Education Trust. Whilst we are only a very small charity, we undertake a huge amount of work, particularly in Christchurch schools and see students from a variety of year groups. Having Lesley, who is committed to the teaching, as our Patron is a great endorsement for our work.'
Further details of the Trust's work can be found on its website www.cffet.org.uk
ENDS
CONTACT: Julie Ratcliffe – 07936 554222
PICTURES ATTACHED:
Lesley working with students at one of CFFET's projects
Or
Lesley Waters at her cookery school with CFFET's Junior Cook Winners from three Christchurch Secondary Schools
Notes to editors:
The Christchurch Food Festival Education Trust is a registered charity set up to advance education in food, food preparation, cookery and nutrition. Further information is available of the Trust's website www.cffet.org.uk