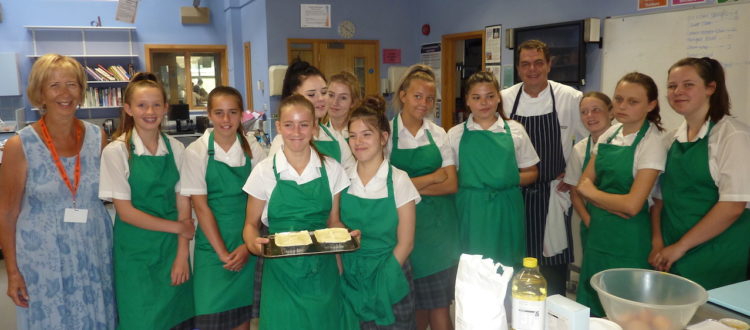 Highcliffe students enjoy a cookery activities day
To end the school year students from Highcliffe school took part in a range of activities during the last week of term, including a special cookery day organised by the Christchurch Food Festival Education Trust.
They were taught by Colin Nash, head chef from the Three Tuns at Bransgore and supported by festival chef Ian Hewitt who also teaches catering part time at the school. The group of eleven Year 8 girls perfected their skills and created a Greek Salad, Chicken and Mushroom Pie and a Lemon Meringue baked Alaska. Having worked hard to prepare everything they then tucked in and ate the food for lunch.
The day organised by CFFET trustee Mary Reader was paid for by the CFFET and supported by Waitrose, Christchurch who provided some of the food.
Mary said " We work closely with all of the secondary schools in Christchurch and over the past year we have been working with a wider range of ages to assist the teachers with more skills based food. We had a really happy day which was expertly run by Colin, who really enthused the girls to learn new techniques. Colin chose the recipes so that they could be useful for future family cooking".
For more information about Christchurch Food Festival Education Trust please see our website. Cffet.org.co.uk