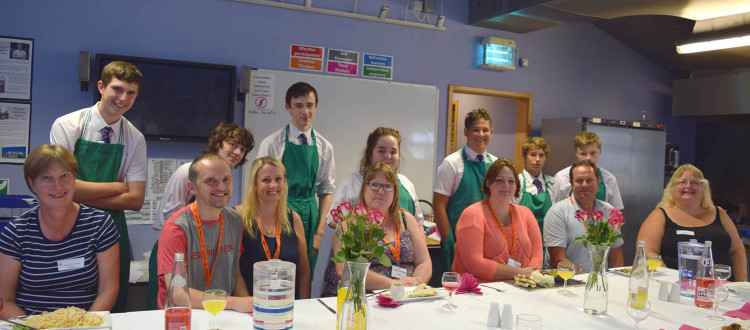 Highcliffe students improve on their Life Skills
Parents and teachers were invited recently to the last week of the Life Skills/Enhanced Cookery course held at Highcliffe School. The course has now been run for 6 years by the Christchurch Food Festival Trust and is offered to the three local secondary schools. It is organised by Mary Reader and run by Ian Hewitt, fondly known as the 'Festival' chef, and was this year sponsored by the Santander Bank Community Fund.
Seven year-10 students were selected by the school who they felt would most benefit from more individual teaching, in order to develop their social and cooking skills. Students were taught everything from food hygiene, budgeting, butchery of a chicken, to filleting fish, and learnt how to use herbs and spices. They also spent a wonderful morning at the Chewton Glen where they were shown around the estate and gardens and the new Kitchen restaurant and cookery school.
Sally Riley, pastoral leader for year 10 at the school said: "This course has been wonderful to support our students. They have all gained in confidence, learnt many new skills and have loved working with chef Ian. We hope that they will go forward with these skills and it will help them with future life choices".
MR: 18.7.2017
Photograph shows all the parents/guardians at the table, with the students (standing)