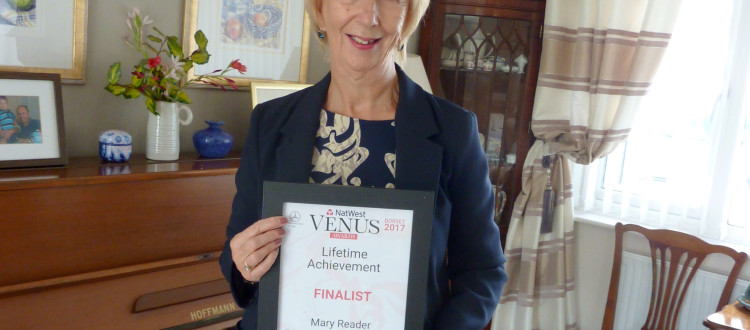 Charity Trustee Recognised For Lifetime's Work
A former 'Christchurch Citizen of the Year,' Mary Reader, has been chosen as one of three Finalists in the Lifetime Achievement category of the 2017 Nat West Dorset Venus Awards. This category is sponsored by the Luxury Care Group who specialise in giving Dementia Care in luxury settings and have four residential homes in this area. The Venus Awards organisation runs a nationwide awards programme that recognises and rewards local business women and delivers business and personal development as a result.
Mary who trained as a home economist spent her employed working life in food education, research, broadcasting, event organising and marketing. She later ran her own Public Relations consultancy. She has worked within the community as a volunteer and almost twenty years ago founded the extremely popular award- winning Christchurch Food and Wine Festival. She then went on to expand the work of the festival in schools and with other local groups. She works throughout the year and organises the activities for the Christchurch Food Festival Education Trust which is a registered charity. More recently she helped to start the Highcliffe Revival Food Festival and has been chairman for the past two years.
Mary said, "It is a great honour – and surprise – to have made it to the Finals of this hotly contested award scheme. I am delighted in my retirement from paid work to be able to give something back to the community through the work of the Trust and through our local Food Festivals. Currently most of the Trust's work is with young people, but we are very happy to look at projects to assist older people, or people with special needs.
Sara Freeman from the sponsor Luxury Care said "I am personally delighted to be taking part in the Venus Awards. In our homes I am surrounded by strong, confident women and I know that as a company we always seek to support each other personally as well as supporting each other to grow in our careers. The Venus awards are a wonderful way of empowering and recognising women for the amazing work which is being done both in business and the charity sector."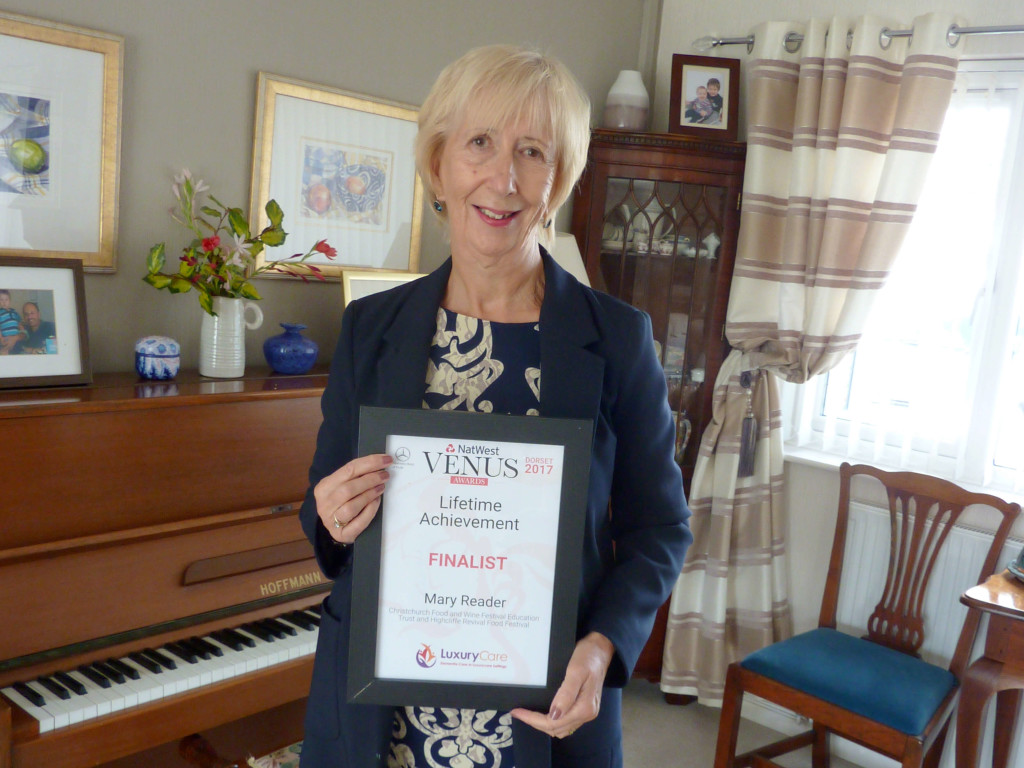 The Venus Awards finals will be held at BIC on Thursday 2 November.
For further info. see Websites:    www.venusawards.co.uk      www.luxurycare.co.uk
www.cffet.org.uk  www.highclifferevivalfoodfestival.co.uk  www.christchurchfoodfest.co.uk