Two local schools are to benefit from enhanced cookery sessions led by Colin Nash head chef from the Three Tuns at Bransgore. The sessions will be based on a demonstration formula where Colin teaches the students skills that they would not normally learn in school. Both Twynham and the Grange are taking part and including all of their year 9 pupils.
A total of 140 students have taken part this week and learnt how to joint a chicken and use it in a variety of dishes. Colin showed them how to refine the cutting and created a delicious sweet and sour chicken stir fry using several unusual vegetables and chicken goujons with crispy Cavalo Nero cabbage. Money saving tips were given with extra special presentation skills forming an important part of the presentations. Later visits will include vegetarian Christmas cookery, pasta making, pastry techniques and special desserts.
The course organised by Mary Reader of the Christchurch Food Festival Trust has been set up to thanks to the funding from the legacy of Mrs Jean Hart from Burton, who wanted to feel that her money would support the local community and especially young people.
Catriona Bale, head of food preparation and nutrition at Twynham school said   "This project is extremely beneficial for the school and a wonderful way to engage our Year 9 food students. The students will gain so much inspiration from each chef demonstration, including a range of high level practical skills and many useful tips on food styling and presentation".
Mary said "The project at the Grange will start in early October, but I would like to say just how much the legacy will help the work of our trust which works throughout the year to support our community with healthy eating and food skills".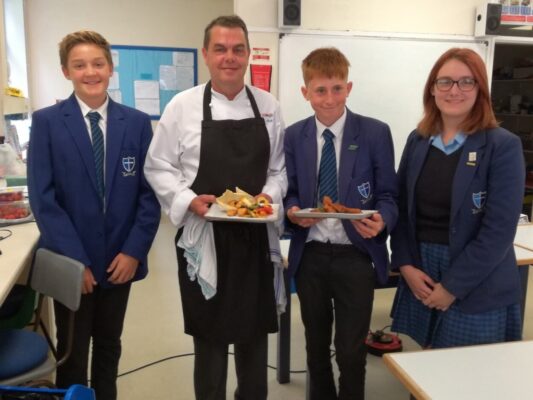 For more information about Christchurch Food Festival Education Trust please see our website. www.cffet.org.co.uk