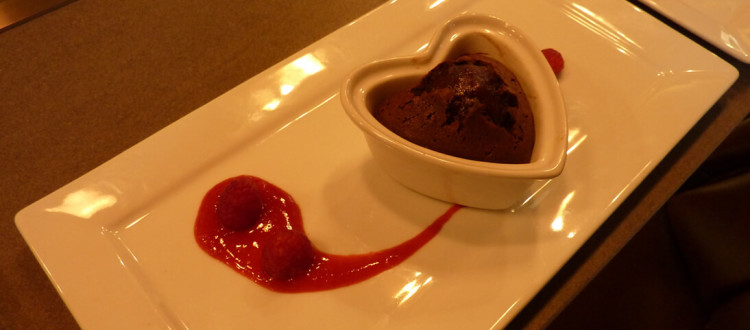 Junior Cook Of The Year Chosen In Cookery Challenge
Christchurch's very own junior master chefs took to the Chewton Glen's new cookery school kitchen to battle it out for the town's coveted title, Junior Cook of the Year in the Food Festival Cookery Challenge 2017. All three of the town's secondary schools took part in the competition and the winner was Tarka Abraham of Highcliffe School. Tarka wowed the judges with a seabass on ratatouille with sweet potato mash followed by a raspberry soufflé. The annual competition is organised by Christchurch Food Festival Education Trust and was sponsored by The Rotary Club of Christchurch and The Chewton Glen.
One hundred hopeful entrants began the competition in March. This was whittled down to twenty-four students who competed in the semi-finals in April, judged by TV celebrity chef, Lesley Waters. Six finalists, three boys and three girls then cooked off in the cookery school at Kitchen, Chewton Glen on 15 May.  The judges this time were Kitchen Head Chef, Adam Hart, Head Chef at The Three Tuns, Bransgore, Colin Nash and President of Christchurch Rotary, Richard Reader.
Richard Reader said: 'All the young cooks did exceptionally well and the food was well thought out and beautifully cooked, it was a difficult decision. Christchurch Rotary are proud sponsors of the competition as it provides a fantastic experience for the students as well as honing valuable life skills.'
The brief for the competition final was to design a two-course healthy meal for two people (main course and dessert) which could be served as a celebratory meal, at a cost of no more than £16 in total. The meal had to be prepared in one and a half hours including preparation time. Parents and teachers attended to observe the students and all students received prizes.
The results were: First Place: Tarka Abraham, Highcliffe School – Seabass, ratatouille with sweet potato mash followed by raspberry soufflé; Second Place: Lucy Fiddaman, Twynham School – Chicken with zucchini vegetables and rice followed by Lychee mousse, and Third Place: Nathan Cracknell, The Grange – Pork kebabs with chilli sauce followed by Lemon and Thyme cake with Greek yoghurt
PICTURES ATTACHED:
Group Left – Right: Mary Reader; Richard Reader; Adam Hart; Colin Nash; Tarka Abraham (Winner)
Individual: Second Place, Lucy Fiddaman at work
MORE PHOTOS:
See more photos from the cookery challenge below.