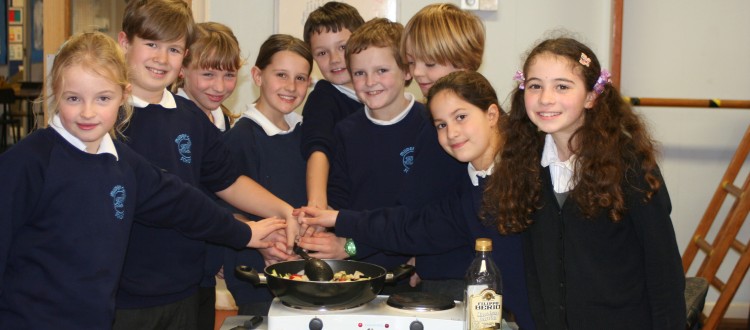 We visit each of the seven primary schools in the area to carry out cookery days. Each one is designed to fit in the part of the curriculum that the children are studying at that time and often features countries or special themes such as lakes and mountains. Subjects range from Ancient Egypt, Greece, Aztecs, Spanish, French and Indian cookery. Sometimes the theme is based purely on history and so subjects such as Roman cookery, the Tudors, Victorian or food from the World Wars are covered.
Each day consists of a talk and demonstration where the children learn about the geography and history of each country, specialising on climate and the ancient traditions which have influenced and still do affect the people living there. We also look at the movement of people and how it affects the type of food which we eat in the UK. This enables the issues of difference and diversity to be covered effectively.
Depending on the size of the year group, each class is then divided into groups where they continue the sessions by cooking at least two of the dishes seen in the demonstration. This enables the children to learn how to use knives safely and covers the preparation of meat, fish and vegetables.
At the end of every session time is allowed for the children and their teachers to taste the food and then discuss what they have learnt.