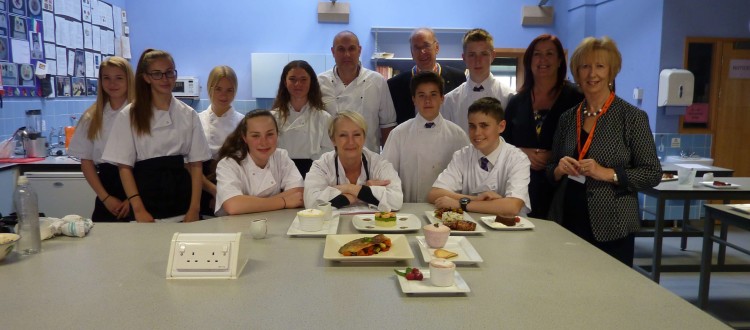 Christchurch Students show their cooking skills at the Food Festival Cookery Challenge
Six students from the Borough's three secondary schools have been selected by Food Festival patron Lesley Waters to take part in the finals at the Chewton Glen Cookery school on Monday 15 May. The semi-finals took place in Twynham, the Grange and Highcliffe schools. A total of 24 students cooked for Lesley who was assisted by Richard Reader, the President of Christchurch Rotary Club who are the sponsors of the competition. Chefs Colin Nash from the Three Tuns at Bransgore and Kevin Brown from the Lord Bute were also judges and gave advice to the students.
Going through to the finals are Jess Teasdill and Nathan Cracknell from the Grange school, Tarka Abraham and Callum Copping from Highcliffe school and George Robbin and Lucy Fiddaman from Twynham school.
The competition which is now in its 18th year is organised by the Festival President Mary Reader, a trustee of the Food Festival Education Trust. Mary said "Each year the students surprise us with imaginative recipes and this year is no exception. It is really wonderful to see the standard being achieved in our local schools with this important life skill. The dedication being shown by their teachers and the students should be highly commended. We are all excited to be using the wonderful facilities of the new Chewton Glen Cookery School".
The students will be judged by Luke Matthews Executive Chef of the Chewton Glen and Richard Reader President of the Rotary Club of Christchurch.
For more information please contact Mary Reader on 01425 837961.